Porsche Boxster Wrecker in Sydney
Oh my, now that is rather nice! Check out what the crew at Model Wreckers have got their hands on this month – a 2015 Porsche Boxster 981 Cabriolet! Click inside to view more images and a live engine test. We are sure that you will agree the high-performance second-hand Porsche engine really purrs, and with our best in class pricing, rest assured of getting fantastic deals on any used Porsche parts.
Used Porsche Boxster engine
The second-hand Boxster engine we currently have in stock is a 2.7-liter flat six-cylinder engine with 265 horsepower, which is not to be sneezed at. Capable of 0-60 mph runs in just 5.5 seconds and a top speed of 164 mph, the high performance used Porsche engine is quick, very quick. Want to hear it roar? Have a look at the live engine test below.
Fun to drive with impressive used Boxster suspension and transmission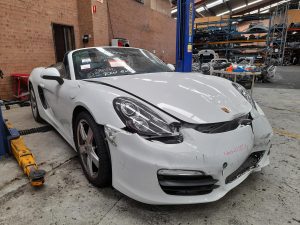 The Porsche Boxster Cabriolet is known to be incredibly fun to drive, with the motor singing just behind the seats. Additionally, all models come standard with a six-speed manual transmission, while the refined Boxster suspension keeps things comfortable even when it is set to one of its more aggressive modes. Our experienced team are of the opinion that the used Porsche Boxster offers outstanding value when comparing performance, comfort and cost with other used Porsche parts such as the 911.
Wide range of Porsche Boxster spare parts currently in stock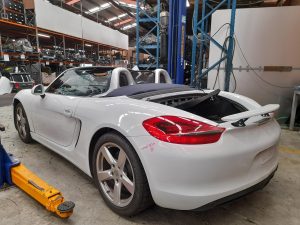 We have a massive range of used Porsche parts in stock. Besides the Boxster, our team is also currently dismantling Porsche Macans, Caymans and Cayennes, which means our customers have an unrivalled selection of spare Porsche parts for your convenience. Whether you need a second-hand Boxster transmission, Porsche driveshaft, or manifold, the crew at New Model Boxster Wreckers are across all the details.
New Model Porsche wrecker delivering used Boxster parts across Australia
New Model Porsche Wreckers have been in business for 30 years over two generations.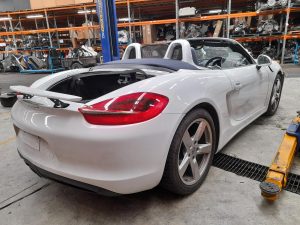 We are extremely proud of our awesome sales team who are able to quickly understand your needs while also offering incredible prices on used Porsche Boxter Cabriolet parts. Get in touch with Australia's most reliable Boxster wreckers or visit our website for current stock in real time (see our vehicle search, part search catalogues for latest information).